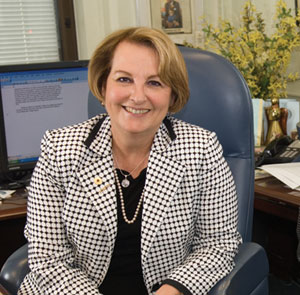 Dolores Fernandez
As a 17-year-old high school student, Dolores Fernandez '74 was told by a guidance counselor that she wasn't college material.
Talk about getting it wrong.
Today, she is Dr. Fernandez, who retired in 2008 after 10 years as president of Hostos Community College in New York.
ROAD TO SUCCESS
After graduating cum laude from Nassau, she earned a bachelor's in education from the State University of New York (SUNY) at Old Westbury, a master's in education and a professional diploma in educational administration from Long Island University (LIU) – C.W. Post College, and a professional diploma in reading and Ph.D. in language and cognition from Hofstra University.
While president of Hostos Community College, she often shared her story with the young women who attended the Bronx school "because I saw myself reflected in their faces."
DIVING IN AT NCC
Dr. Fernandez was a young mother of two sons when she signed up for 12 credits at NCC, en route to proving her high school guidance counselor wrong. While the campus today is vastly different than the one she encountered back in the 1970s, NCC's commitment to teaching and learning has remained.
"NCC opened up the world of education for me once again," she says. "It was at this institution that I learned to have faith in myself and courage to become a risk taker in my field of dreams."