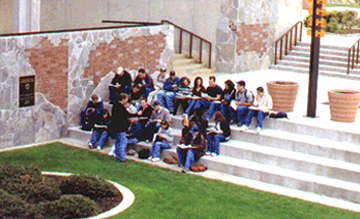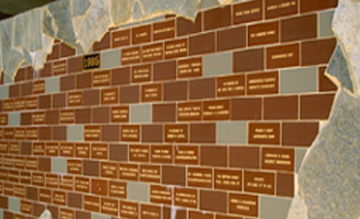 The NCC Alumni Association encourages support of its Scholarship Program and other campus giving programs. Please contact Dr. Rita Langdon (class of 2017) if you would like to donate to the Alumni Association.
The Nassau Community College Foundation, Inc. invites your participation in a special program of recognition which will help pave the way for the College to continue its scholarship, educational and cultural programs. You and/or your organization can join this important effort by purchasing a brick personalized with a commemorative inscription. The brick will be incorporated into a permanent section of the memorial wall located adjacent to the fountain at Cluster A on campus.
Your tax-deductible contribution to the Brick Inscription Campaign provides a unique opportunity to recognize family and friends of their deeds and accomplishments in a permanent way while supporting these important efforts at the College. Periodic installation ceremonies take place—an ideal opportunity for sponsors to gather at the recognition site.
Your donation of $125 entitles you to imprint a one-line inscription. For $175, you are entitled to a two-line inscription, suitable for a special message or dedication (we reserve the right to refuse orders of questionable taste). Examples of Inscriptions include:
Example of Inscriptions

Buy a commemorative Brick today!
Return this Form with your check payable to "NCC Foundation" and mail to:
Nassau Community College Foundation Office
One Education Drive
Garden City, NY 11530
For additional information please call 516.572.7484