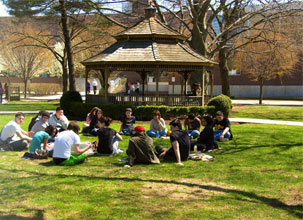 THE WORLD IN 225 ACRES.
Nassau Community College has everything you need for an education that will reward you the rest of your life. Big talk? You bet. Big campus and big opportunities, too. At NCC, you'll find yourself surrounded by 225 beautiful acres that feel more like a traditional four-year college campus than the community colleges you're used to seeing.
As a State University of New York (SUNY) school and the largest single-campus community college in the state, NCC has a remarkable mix of quality academics, activities, athletics, arts, and much more. Our students come from nearly 60 different countries and speak 35 different languages. Although its campus atmosphere is global, NCC keeps its class sizes small. You'll get the attention that feels just right, from faculty who are as accomplished in their fields as they are dedicated to your success.
Want to see more of NCC's campus? Download the Campus Map.