November
Duo-Piano Concert
November 13, 2018
Club Hour 11:30am – 1:00pm
Ballroom Q105
Susan Sobolewski and Jeong-Hwa Park
'The Celebration Continues' is a presentation of American dances, whose centerpiece is the dynamic and moving "West Side Story Symphonic Dances" by that most iconic of American composers, Leonard Bernstein. The year has seen performances of Bernstein's work all over the world during this, his 100th birth anniversary.
The work will be heard on two pianos, presented by NCC Faculty artists, Dr. Jeong-Hwa Park and Dr. Susan Sobolewski. In addition to these dances, the theme will continue with the performance of movements from Samuel Barber's 'Souvenirs' for one-piano four-hands. The concert will conclude with George Gershwin's high energy 'Cuban Overture' arranged for two pianos and augmented by percussion. Dr. Paul Sheehan, also a Music Department faculty member, will join Drs. Park and Sobolewski in this performance."
---
Cultural Program: David Hogg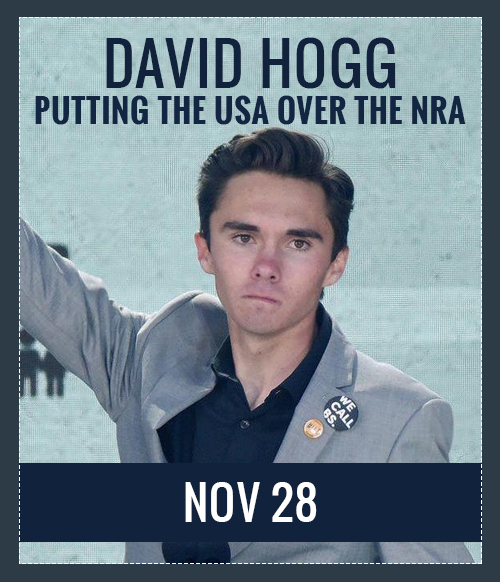 November 28, 2018
Club Hour 11:00am – 3:00pm
CCB, Multipurpose Room
Putting the USA Over the NRA
As a senior at Marjory Stoneman Douglas High School in Parkland, Florida, David Hogg survived the largest school shooting in American history. So that no other person would have to experience what he went through, he co-founded March For Our Lives, a youth-led gun violence prevention movement that organized one of the largest mass mobilizations this nation has ever seen.
David travels the country, meeting with impacted families and diverse communities and learning about gun safety and the politics surrounding the issue. He is a proud member of the 2018 graduating class of Marjory Stoneman Douglas High School.
December
NCC Choral Concert & Vocal Ensemble
December 9, 2018
4:00pm – 6:30pm
Q Q105
A concert of music by American Masters. Works by Billings, Foster, Copland, Barber, Bernstein and more. The concert highlights choral music written by American composers as early as 1778 to works of today.