Effective May 30, 2023 Nassau Community College (NCC) no longer requires COVID-19 Vaccination for students. If you are fully vaccinated, however, NCC strongly encourages that students submit proof of their COVID-19 vaccination by using the SUNY Vaccination Verification Application. This is most easily done through the link in the NCC Mobile App under "Summer Sessions 2023 Checklist " tab. Detailed instructions may be found below.
It is also highly encouraged for all employees to be fully vaccinated.
---
Submit Proof of Vaccination
Student vaccine verification should be submitted to the SUNY Vaccination Verification Application. This application can also be accessed through the NCC mobile app.
Steps for COVID-19 Vaccine Verification:
Example of SUNY Verification Screen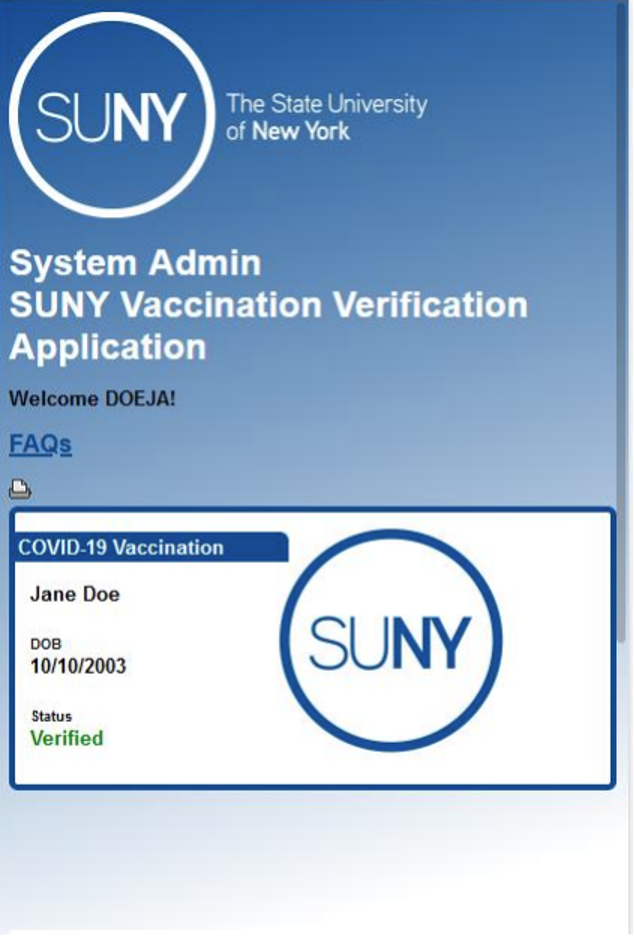 Go to the SUNY Verification Application.
Choose your campus: Select Nassau from the drop down menu. Click "Log In".
SUNY Nassau Login page: Type your N Number and Password. Click "Sign In".
Vaccination Information entry screen: Enter your information exactly as it is written on your vaccination card and click "Verify".
Verification:

Successful Verification: Upon successful verification, you will see a "Verified" screen like the one on the right.
Unsuccessful Verification: Make sure your information is correct and try again. If still unsuccessful, follow instructions to upload a picture of your card. Once uploaded, a "Manual Review Pending" message will appear at the top of the screen. IMPORTANT: If you are pending Manual Review, please email the Student Health Office at HealthOffice@ncc.edu so we may process your request as quickly as possible.
A detailed step by step instruction manual on how to verify your vaccine status can be viewed in this instructional guide.
A SUNY Vaccination Verification Application FAQ document is also available.