The Food and Drug Administration (FDA) has issued final approval for at least one COVID-19 Vaccination, which per SUNY requires all students, who intend to have a physical on-campus presence, to be either fully vaccinated, in process of being fully vaccinated, or be granted an exemption if they are on-campus. Students have a 35-day grace period, from the day of full FDA vaccine approval, to provide proof of vaccination. Proof must be submitted by September 27, 2021.
It is also highly encouraged for all employees to be fully vaccinated.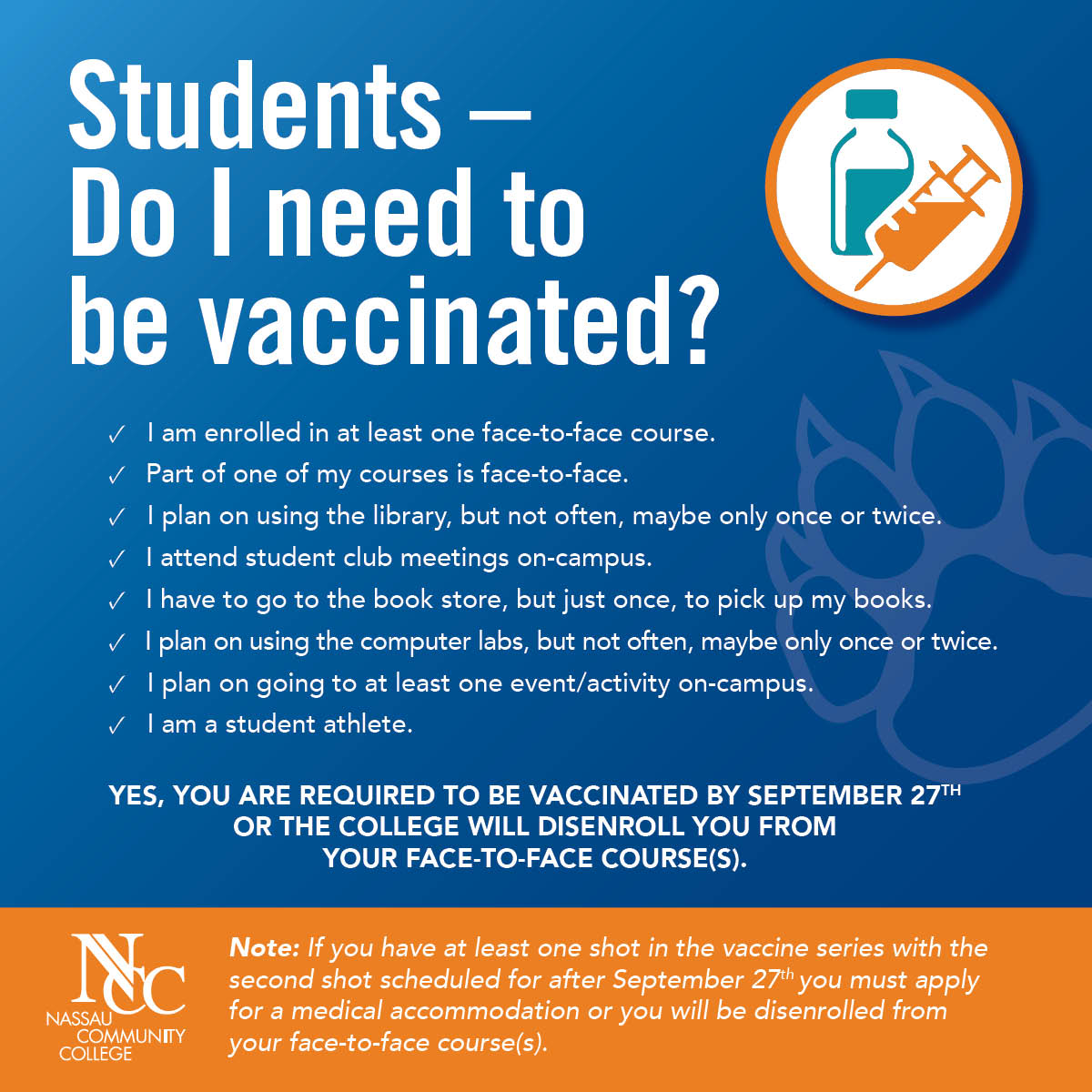 ---
Submit Proof of Vaccination
Vaccine verification should be submitted to the SUNY Vaccination Verification Application by September 27, 2021. This application can also be accessed through the NCC mobile app.
Medical & Religious Exemptions
To apply for a medical or religious exemption, please download and complete the relevant exemption form.
Students can submit their form in one of two ways:
Submit in person via the Health Office mailbox located in the Student Services Center, or
Submit electronically to HealthOffice@ncc.edu.
Note: Students should read the exemption form carefully as criteria for exemption are stringent. Please also note that processing of exemptions may take up two (2) weeks.
Medical Accommodation
Students who are not yet fully vaccinated, and international students who received a COVID-19 vaccine not authorized or approved by the FDA or the WHO, may apply for a temporary medical accommodation to allow them time to become fully vaccinated.
Any such requests will be reviewed and granted on a case-by-case basis by the campus.
To apply for a medica accommodation, please email HealthOffice@ncc.edu.
Vaccination FAQ