Per SUNY's COVID-19 Vaccination Policy all students, with an on-campus presence are required to be fully vaccinated or be granted an exemption if they are on-campus. Proof must be submitted to the SUNY Vaccination Verification Application through the NCC mobile app.
It is also highly encouraged for all employees to be fully vaccinated.
---
Example of SUNY Verification Screen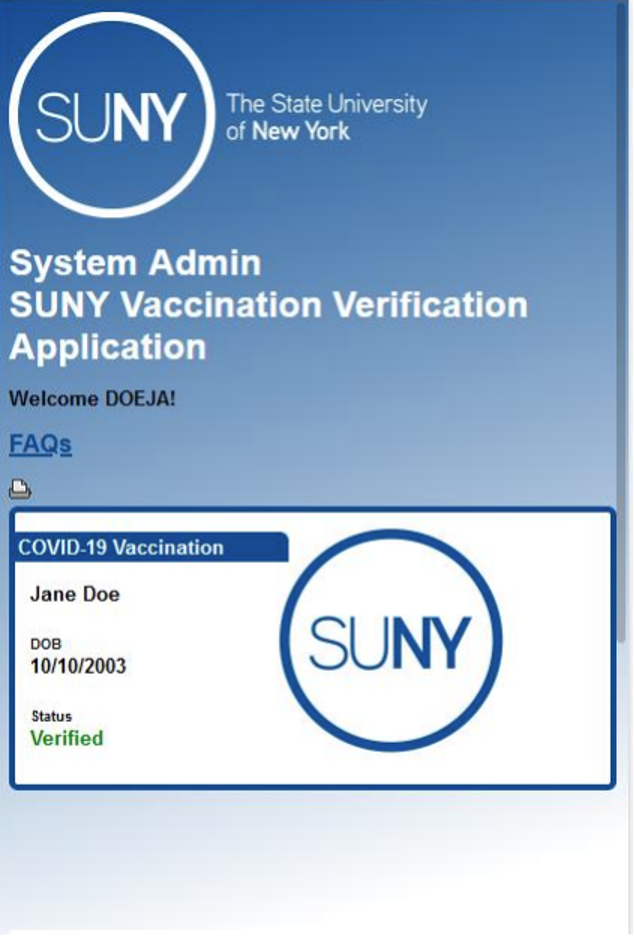 ---
Medical & Religious Exemptions
To apply for a medical or religious exemption, please download and complete the relevant exemption form.
Medical Exemption Form: Submit your form in person via the Health Office mailbox located in the Student Services Center, or email to HealthOffice@ncc.edu.
Religious Exemption Form: Submit your form by emailing aao.exemptions@ncc.edu
Note: Students should read the exemption form carefully as criteria for exemption are stringent. Please also note that processing of exemptions may take up two (2) weeks.
---
Medical Accommodation
International students who received a COVID-19 vaccine not authorized or approved by the FDA or the WHO, may apply for a temporary medical accommodation to allow them time to become fully vaccinated.
Any such requests will be reviewed and granted on a case-by-case basis by the campus.
To apply for a medical accommodation, email HealthOffice@ncc.edu.